Preparation meeting of winding wire field in Guangdong cable industry development guidance (2021-2025)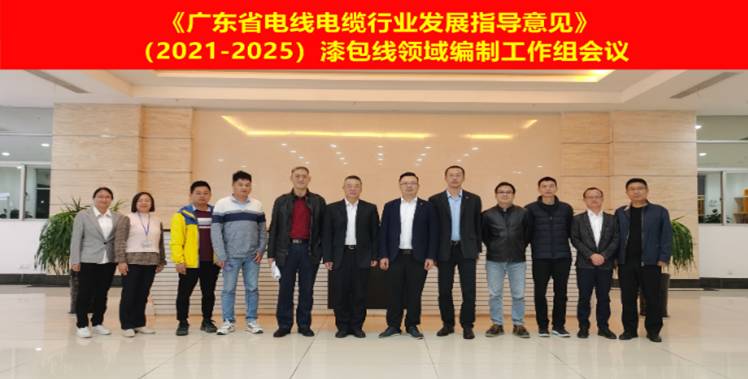 (group photo)
The guiding opinions on the development of wire and cable industry in Guangdong Province (2021-2025), organized and prepared by Guangdong wire and cable industry association, is composed of industry comprehensive articles and articles in various professional fields. The winding wire field is one of the professional fields. With the active support and participation of members of Guangdong photoelectric cable Expert Committee and industry experts, the task of preparing the first draft in the field of winding wire has been completed.
On the afternoon of November 25, 2021, Guangdong wire and cable industry association organized experts to hold the working meeting of the preparation group of Guangdong wire and cable industry development guidance (2021-2025) - winding wire field in Zhuhai Gree Electric Co., Ltd. 12 representatives from enterprises in Guangdong Province, including copper and aluminum enamelled wires, ultra-fine enamelled wires, ultra-fine flat enamelled wires and enamelled wire equipment enterprises, attended the meeting.

(meeting site)
At the meeting, the experts discussed the development status of winding wire industry in China and Guangdong, the development trend from 2021 to 2025, the existing problems and suggestions of industry development one by one, and expressed their suggestions and opinions, so as to further improve the revision work and improve the preparation quality. At the same time, relevant experts claimed the preparation tasks that need to be revised. Finally, Secretary General Lin Wei of CAAC summarized the suggestions put forward by the members of the preparation group, and agreed with the experts on the completion time of the revised version and the plan for the next work.
The representatives attending the meeting are: Lin Wei and Qi Qiulin of the Secretariat, Xu Bo of Gree Electric, Ma Hongjie of Gree Electric, Feng Zhongtai of Rongsheng ultra micro, jingdalia Xingze copper, jingxunya Zhao Guoyun, Zhang Jie of G.Y.M, Chen Yong of weiqi electric, Xiao Songtao of Songtian electric, Hou Xinyu of solar cable equipment, and Huang mianzhong of the special committee.