Safety production meeting held in the first quarter of 2022
On the afternoon of April 14, the Ministry of human resources and relevant production supervisors held a safety production work summary meeting in the first quarter of this year. At the meeting, the safety production work in the past three months was summarized, the areas with the fastest speed and best effect in safety rectification were praised, and the potential safety problems that could not be solved at this stage were pointed out.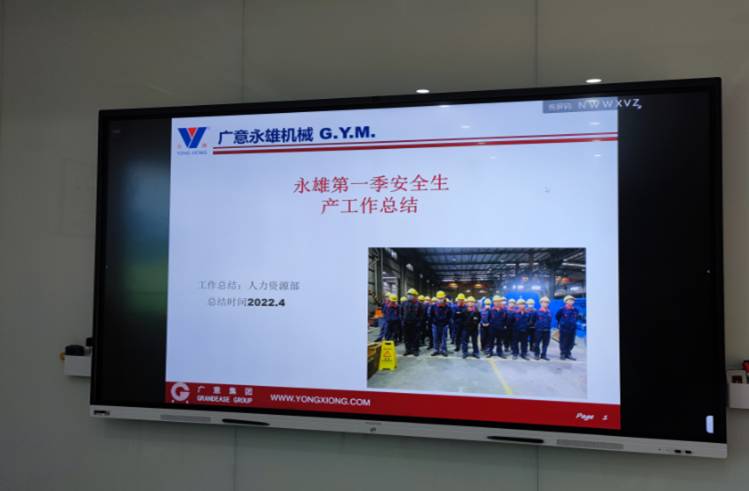 Summary: in the past 1-3 months, the human resources department has conducted 5 safety inspections, including 2 routine inspections, 1 inspection on New Year's Day holiday, 1 inspection on resumption of work and production, and 1 inspection on materials in flood season; For the hidden dangers that could not be solved at the production site, the workshop supervisors expressed their opinions and put forward suggestions for solutions. The solutions were agreed at the meeting:
1. Through the meeting, the participants agreed that the user of equipment and tools is the first person responsible for safety, and the employees should check the use of areas, tools and equipment according to the safety system before use; The workshop supervisor is responsible for supervising the implementation of on-site safety under his management; The safety officer is responsible for managing the safety implementation of the workshop supervisor and the inspection of employees.
2. The human resources department shall check whether the responsibilities of implementation, supervision and inspection in the safety management system are perfect. If they are missing, they need to be supplemented immediately.
3. Employees shall fulfill the responsibility of using tools and implement the responsibility of who uses the tools, who checks and who is responsible.
4. Special equipment such as traveling crane, forklift and air storage tank shall be classified into the scope of safety inspection and safety management.
Correspondent of human resources department: Li Ziying